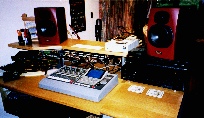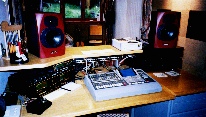 Primrose Hill Audio Recording Technology Studio
Primrose Hill Recording Studio is equipped with a 16 track digital 'hard disk' recorder workstation by Roland. The recorder has a total of 256 'virtual' tracks available to any one song, allowing the musician to record up to that number of variations of vocals, harmonies and instruments, and then chose the best 16 to go to the final 'mix'. Track 'bouncing' can be used if more than 16 tracks are required, and because the entire process is kept in the 'digital' domain, there is no obvious loss in sound quality when this method is used. There is an extensive library of digital 'effects' available within the mixer that can enhance the recordings as required.
The studio also has a number of instruments available for use, including a Korg N364 keyboard workstation, various acoustic, electric and bass guitars, Yamaha DD-11 drum machine and a variety of percussion instruments. There is also a small 'Gorilla' bass amp for use if required. Audio input to the recorder is by high quality Audio Technica, AKG, Beyer and Studio Projects condenser studio microphones, or by 'direct line' from electronic instruments. The fridge full of refreshments is also very popular!
The final song or tune 'mixes' can be mastered to either 'Red Book' audio CD, wave files, mp3 or cassette tape, depending on your own requirements.
If you would like any more information, please send an E-mail to studio@wherries.co.uk with your enquiry.